Hop into the Fun with These Exciting Easter Ideas
Easter is a time for renewal, joy, and excitement. It's a time for families to come together to celebrate and create memories with fun events and activities. There are many creative and fun ways to make the day memorable, from Easter egg hunts and bunny hop races to Easter-themed crafts and Easter basket ideas.
You can make your Easter celebration even more special this year by hosting it with a party rental company.
This article will explore the various Easter events you can host, including airbrushing and a visit from Fritz the Easter bunny.
Classic Easter Ideas
Host a Classic Easter Egg Hunt
Hosting a classic Easter egg hunt is always a crowd-pleaser; this classic and timeless tradition brings out the inner child in us all. Imagine searching around and discovering hidden treasures filled with sweet treats and surprises: this can be done with hidden plastic eggs filled with goodies like jelly beans and prizes.
Consider using an Easter Bunny Tracker to help keep everyone entertained, or play Crack the Egg for a twist on the traditional egg hunt. You can also add a twist this year by incorporating a game of Easter Cornhole. These games are guaranteed to bring smiles and laughter to the whole family.
Bunny Hop Races
Bunny hop races are a fun and playful activity that adults and kids will love. Participants can wear silly bunny ears and hop to the finish line, creating playful chaos and excitement. Not only do bunny hop races provide a great source of physical activity, but they also encourage teamwork and friendly competition.
Easter Themed Crafts
Easter-themed crafts are a great way to get creative and make unique Easter decorations. The following are just a few of the ones that are sure to keep your guests entertained and happy.
Sand Art
Sand art is also a creative activity that allows kids to design colorful creations. Kids can get creative with various sand colors and bottle shapes.
Spin Art Machine
Another great addition to your Easter celebration is a spin art machine. With spin art, kids can drop paint onto a spinning piece of paper, creating a unique and one-of-a-kind design.
Spin T-Shirt Machine
With a spin t-shirt machine, kids can create their custom t-shirts with fun designs and vibrant colors.
Airbrush Face Painting and Tattoos
Kids and adults can also get their faces painted or tattoos with Easter-themed designs, such as cute bunnies, eggs, and flowers. It is a way to add a unique touch and personality to their celebration.
Bubble Station
A bubble station can provide hours of fun and excitement as kids play and create bubbles of all sizes. Whether blowing giant bubbles, creating bubble sculptures, or simply running through a sea of bubbles, adding a bubble station to your Easter celebration is a great way to bring a touch of magic and wonder to your event.
Fritz the Easter Bunny
Another fun Easter activity you can host is a Fritz Easter bunny visit. Fritz is a friendly and adorable Easter bunny who loves to meet new people and participate in fun activities. He can play games with the kids, help hide Easter eggs, and even pose for photos. Your guests will love having Fritz at your Easter celebration, a special memory they will treasure for years.
Carnival Games
In addition to traditional Easter games like egg hunts and bunny hop races, you can also add other exciting games to your celebration. Down the Ducks is a fun carnival game that is perfect for all ages and can be played individually or in teams. Spin the Wheel is another popular game that adds an element of chance to your celebration. Players spin the wheel and win prizes based on where the wheel lands. Connect 4 is a classic strategy game that can be played by individuals or teams, providing hours of entertainment for everyone involved. Other classic carnival games like duck pond, giant horseshoe toss, and balloon blast are great for kids of all ages and can provide hours of entertainment.
Inflatables
Inflatables are also a great way to add excitement and friendly competition to your celebration. From bounce houses and obstacle courses to giant Plinko and Skee Ball, inflatables provide a fun and safe activity for everyone to enjoy. By incorporating these games, you can add extra fun and excitement to your Easter celebration and create memories that will last a lifetime.
Easter Baskets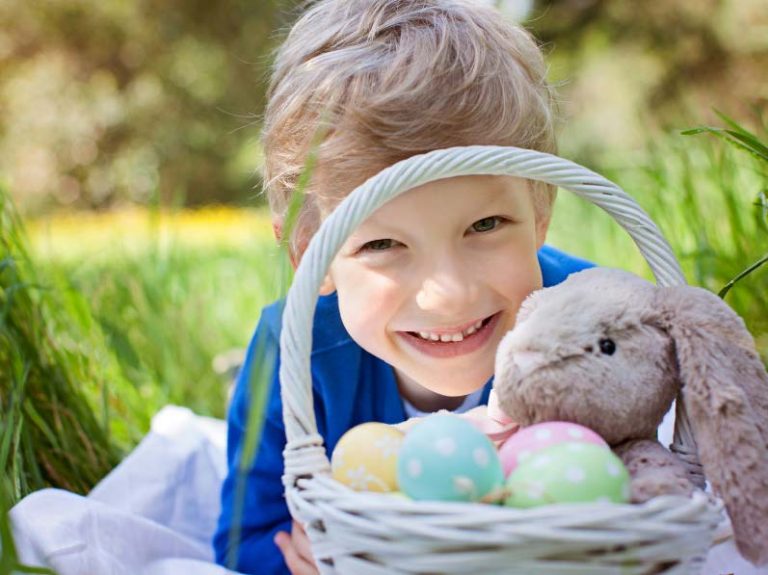 These games provide fun and entertainment and can also be used to give out prizes to the winners. Prices can include Easter baskets filled with chocolate bunnies and eggs, jelly beans, gummies, stickers, play-doh, and colored pencils.
Food and Drinks
When hosting an Easter celebration, the food and drinks are just as important as the activities and games. Make your Easter celebration even sweeter by adding a variety of tasty treats to your event! Treat your guests to the cool and refreshing flavors of a Sno Cone machine, a chocolate fondue station where they can dip fruit, cookies, and more into a warm and creamy chocolate, a Sandy Candy station where they can create their own sweet and crunchy treats, and classic favorites like cotton candy, popcorn, hot dogs, nachos, and pretzels.
Decorations and Music
When planning your Easter celebration, it's essential to remember the details, such as decorations, table settings, and music. For example, you can decorate your event space with colorful flowers, balloons, and streamers and set the table with special Easter-themed plates, cups, and napkins. You can also play cheerful and upbeat music to set the mood and create a fun and festive atmosphere.


In conclusion, Easter is a special time of year to be celebrated with joy and excitement. Whether you're hosting a family gathering, a community event, or a corporate function, Big Bounce Fun House Rentals can help make your Easter celebration even more special. With airbrushing, Fritz the Easter bunny, and various other fun activities and games, you're sure to create a memorable and enjoyable event for everyone. So why wait? Start planning your Easter celebration today, and let's make this Easter the best one yet!