It's that time of year again! The holidays are fast approaching, so it's time to start planning your company Christmas party! Hosting a corporate event can be a lot of work, but with a bit of planning and the help of a professional rental company, you can throw an unforgettable party that your employees will be talking about for years to come.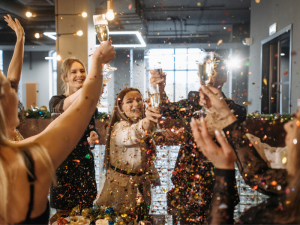 From Santa Claus himself to karaoke and iceless skating rinks, there's something for everyone on this list. And if you want to go all out, you can also include a led movie screen and an escape room.
So what are you waiting for? Get started planning your company Christmas party today!
How to Plan the Perfect Company Holiday Party
Here's what you need to do to get started:

Pick a date and time. Pick a date that doesn't interfere with people's work schedules too much. Fridays or Saturdays are usually best.
Choose a venue. The next step is to choose a venue for your party. If you have a large enough office space, you can host the party there. Or you can even choose an outdoor space like a park or rooftop. Renting a tent is the perfect way to keep your employee's comfortable no matter what the weather is like outside. We have a variety of sizes and styles available, so you can find one that fits your needs perfectly.
Decide on activities. What kind of activities do you want at your party? Will there be dancing? Karaoke? Games? Make sure to plan to book any necessary rentals, like an iceless skating rink or casino tables. You can also add entertainment like a DJ or live band. And remember fun extras like photo booths or LED movie screens!
Once you have all the details finalized, it's time to send out invitations! Emails are acceptable for this but if you want to make an impression, send out physical invitations that match your party theme!
Corporate Holiday Party Ideas
If you're stuck for ideas, never fear! We've got you covered with a list of festive activities that will add to any yearly secret Santa and ugly sweater party!
Santa Claus 
What would a Christmas party be without a visit from the big man himself? Santa Claus is sure to bring some holiday cheer to your employees. He's available for photos and can even hand out presents if you'd like! 
Mobile Ice Skating Rinks 
A mobile iceless rink is a perfect way to add festive fun to your company's Christmas party. Employees can skate around and enjoy the winter weather (minus the cold). It's a great way to get everyone in the holiday spirit. 
Karaoke 
Get everyone singing their hearts out with our karaoke box rental! It has all the latest hits, so your employees can sing along to their favorite songs. And if you want to get into the holiday spirit, we even ha
ve a special Christmas karaoke playlist available. 
Casino 
Do you want to add excitement to your company's Christmas party? Rent our casino package and turn your office into a Las Vegas-style casino! We have everything you need, including poker tables, blackjack, roulette, and slot machines. 
Led Movie Screens 
Our LED movie screens are perfect for playing
 classic Christmas movies like "Elf" or "The Polar Express" for everyone to enjoy. 
Mobile Escape Rooms 
Do you want to add a little competition to your company's holiday celebration? Our climate-controlled escape rooms are perfect for team-building exercises or just some good old-fashioned fun.

Trackless Christmas Train 
All aboard! Our trackless train is perfect for transporting employees from one activity to another at your company Christmas party. It's also great for carrying presents or food. 
Entertainers 
Entertainment is a necessity for any great party! We have various entertainers available for hire, including magicians, face painters, and more. Whatever type of entertainment you're looking for, we can help you find it. 
Lighting and Special Effects 
Create the perfect Christmas party atmosphere with our lighting and special effects rentals! From disco lights to fog machines, we have everything you need to make the ambiance at your event look even more festive.
Music DJ
Music is the lifeblood of any party! Our music DJ will keep the dance floor packed all night long with all the latest hits and some holiday classics. And if you want to get into the spirit, we can even provide a special Christmas playlist for your event.
The list goes on. You can also include a photo booth, massage chairs, oxygen bars, or a snow globe human chamber to add to the festive cheer!
Tables and chairs are essential for any party! We have a wide selection of both available so you can accommodate your guests comfortably. And you can also add some life-size holiday decorations like a snowman or a Letters for Santa mailbox.
Planning holiday parties may seem daunting, but with a little planning and professional help, there's no need to stress about planning your company Christmas party this year! Just follow these simple steps, pick one (or more!) of these festive ideas, and you'll be well on your way to throwing the perfect company Christmas party that will get your employees in the Christmas spirit. 
We hope you enjoyed our corporate Christmas Party Ideas. So what are you waiting for? Give us a call today! When it comes to company Christmas parties, we're experts. We'll be delighted to help you plan your annual company holiday party to remember!
Enjoy Your Company's Holiday Party and the Holiday Season!
Title: Make This Year's Company Christmas Party One to Remember | Big Bounce Fun House Rentals
Meta Description: Planning your company Christmas party this year? Check out our list of company Christmas party ideas and activities! From Santa Claus himself to iceless skating and karaoke, there's something for everyone on this list.